How it Works & FAQs
We hold one event per week, this is due to the time it takes to prepare and clean up the barn. You'll will be hiring the barn from the Monday evening before your event and you will have the week to decorate etc. The following Monday afternoon the barn will need to be clean and ready for the next event.
There are two barns available but dependant on the time of year. The main barn from late May till early September. The second barn is only available from late May till late June this is due to hay making. One barn is more than ample for a wedding and holds up to 200 people.
We are reception only; we don't hold ceremonies here. We are happy for people to have unofficial ceremonies here and we have a company on our recommended suppliers who can help with this. They can be held in the fields if the weather is accommodating or in the barn. We have a white metal archway you can make pretty and use in your ceremony.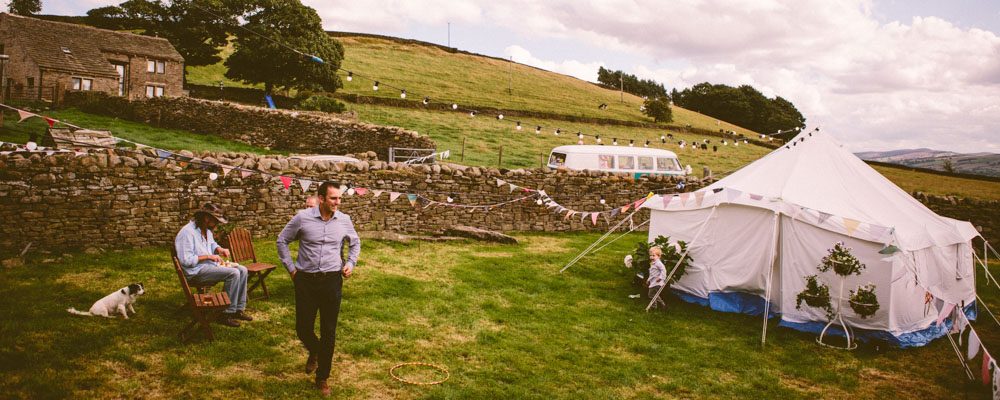 What you get
We a have resident bar called Raise The Bar. They supply weddings, events and businesses with a versatile range of services. Their team are specialists in the wine trade and event industries and are also qualified trainers in food safety and wine education. They pride themselves on friendly professionalism, first-class customer service, in-depth product knowledge & great value. You can get in contact with them at www.raisethebarevents.co.uk
We will help you with the decoration and clean-up of the barn and surrounding area but this is mainly down to the hirer. We have access to a scaffolding tower to help reach the roof of the barns. There are a few decorations that we have made and collected over the years that you're welcome to use at no extra charge. They include an antique horse cart from the senior farmer's milk round days, 90 years old and he's still milking twice a day…. Country air for you! It's great for photos or whatever you can think of using it for. We can build all sorts from straw bales such as a stage, bar, seating areas or even a bowling alley. Get on Pinterest and see the possibilities. Some of the decorations we have can be seen in the gallery part of the website.
We need to know a month in advance as to how you'd like the straw bales set out as we may need to order more. There is no extra charge for this. Farmer Rick uses his tractor to move the bales into whatever set up you want. The bales are on average 9ft long, 2ft high and 4ft wide.
The barn is powered; generators are not necessary. The barn has plenty of water supplies. The barn also has lighting but some people like to hire disco lights or fairy lights.
If you choose to take our tractor driven entrance. We pick up you from the main gates of the farm on a tractor with a trailer. The trailer has straw bales for you to sit or lean on, it has a just married sign, tin cans and ribbons. Our drive is half a mile which leads up to the barn where all your guests will be waiting for you. This is completely optional/weather permitting and included in the price. Please let us know what time to pick you up.
There is no time limits on your partying but please respect we have small children and as farmers get up early! We prefer music volume to be lowered from 1am.
Glass bottles and glasses aren't allowed. We allow toast glasses but they need to be collected up straight after the toasts are made. We know plastic cups aren't as nice but we have been finding bottles and glasses in our fields and of course this is a serious danger to cattle, cars, small children and tractors. We also re use the straw bales after the wedding season as bedding for the cattle (they eat it too). It'd not worth the risk. We are happy for people to used jam jars etc are decorations but please make you aware of any breakages.
Parking, we have lots of that. Its advised to tell your guest to leave some wellies in their cars because they will be parking in a field.
Camping, camper vans, yurts and igloos are all welcome on site for guests if they want to stay the night. They can pitch up the day before but must be gone the day after.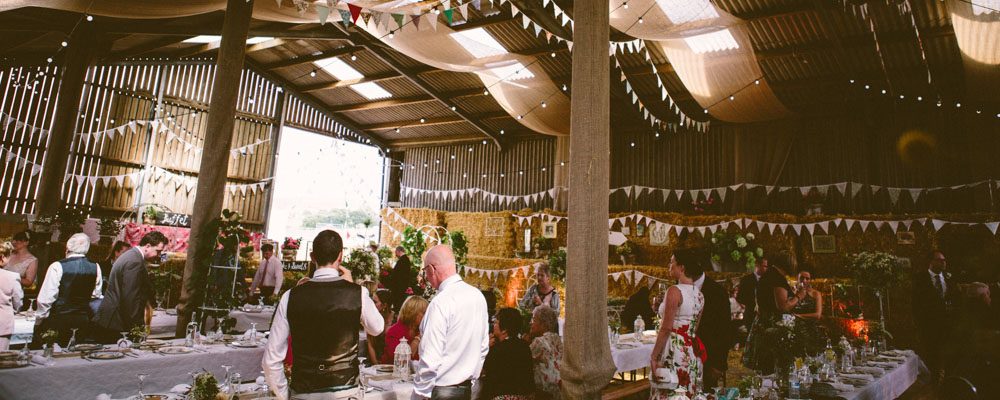 What you need
The hiring of suppliers is down to the hirer, we have recommended suppliers and you are free to use them or your own. You can download a copy of our recommended suppliers from our website. This is our basic list of what you need to hire: – Toilets, Table and chairs, caterers and entertainment. The barn is sheltered and water proof but some people like to hire heaters, this is fine but please let us know what kinds you are planning on hiring as they need to comply with our safety regulations.
Your decorations can be whatever you like, from rustic to Disney! We don't mind.
Extension cables are a must, we have a few but they keep going walkabout after weddings. Please provide your own.
All the basic measurements for the barn can be found on the website.