How it Works & FAQs
Thornsett Fields Farm is a DIY farm venue., there will be a bit of muck, mud, animals and machinery around.
We hold one event per week, on Saturdays. This is due to the time it takes to prepare and clean up the barn. You'll will be hiring the barn from the Monday evening before your event, you will have the week to decorate etc. The following Monday afternoon the barn will need to be clear of your decorations.
The barn holds up to 140 for a sit-down meal and up to 170 for the evening.
We are reception only; we do not hold legal ceremonies here. We are happy for people to have unofficial ceremonies. They can be held in the barn, fields or small croft outside the barn if the weather is accommodating.
Weddings can start from 12pm but must finish at 12am. Live music ending at 11pm and DJ's finish at 12am.
Ourselves, our children and dogs will probably gate crash your wedding at some point! We're sorry but cake and fun on our doorstep is often too hard to resist. During your set up, you will probably be visited by our dogs, children and chickens. If you'd rather they didn't visit you please let us know and we'll remove them, the gaps in the barn doors can be blocked to prevent them returning.
When you're not in the barn during your set up, please keep all the doors shut. In the unlikely event of an animal escape, the last thing we want is cows or sheep coming for a nosey at your beautiful set up.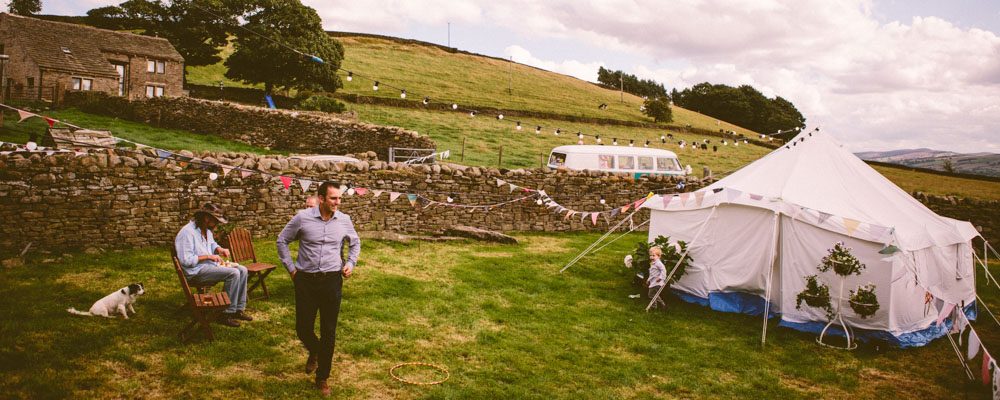 Included in the Price
Our resident bar is Raise The Bar. They supply weddings, events and businesses with a versatile range of services. They're a team of specialists in the wine trade, event industries and are also qualified trainers in food safety and wine education. They pride themselves on friendly professionalism, first-class customer service, in-depth product knowledge & great value.
Contact with them at www.raisethebarevents.co.uk or speak to them today.
Raise The Bar have been providing bar services for us since 2016. We can't fault Raise The Bar, their service has always been exceptional and we are confident it will continue.
We do not allow other bar services.
Thornsett Brewery and Hop Yard is at our front gate and run by a family member. They can provide on-site brewed craft ales to your wedding via Raise The Bar. They also supply a beautiful hop confetti. Contact them today at our front gate or at thornsettbrewery.co.uk
The festoon lights, hessian swags and bale seats will always be in place for your event.
We will put up your added ceiling decorations with our telehandler. We a few decorations, we have made and collected over the years, which you're welcome to use at no extra charge.
Power, lighting and water. The barn has plenty of sockets, lighting and two water supplies (either side of the barn, near the caterers and bar). Remember the venue is a barn and sometimes has power cuts if the electric is overloaded. We can deal with this, but it is helpful not to have power hungry caterers. Generators are not necessary.
Parking is on the field. We will direct and park your guests on the day.
We provide signage for the local roads to direct your guests to us.
Camping, camper vans, yurts and igloos are all welcome on site next to the parking field. They can stay for the night of your event. They can only stay on the Saturday night and must respect our no music after 12am policy. Campers are asked to be off site by 12pm Sunday. Strictly NO GLASS in the camping field.
We are always happy to help with setting your event. We have years of knowledge of what works best in the barn. Kerrie is an experienced artist and woodworker; she is happy to help with small projects. The nature of farm work means we are often busy with animals etc but there is always someone onsite to help if needed.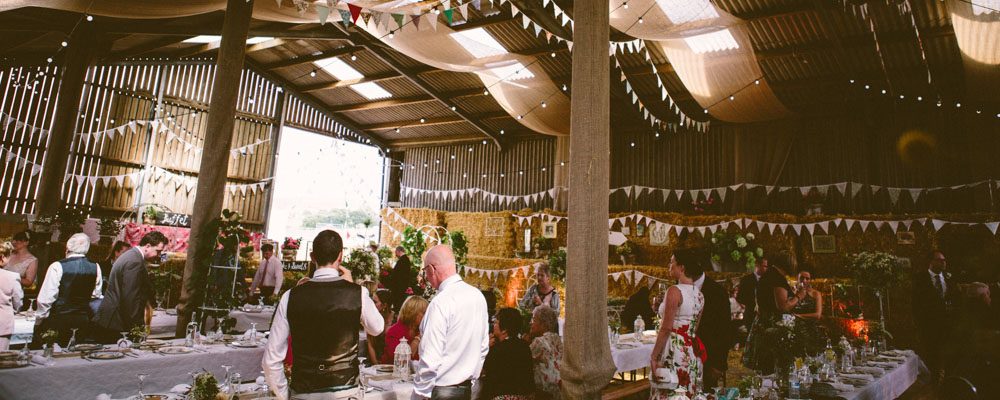 What you need
Suppliers
The hiring of suppliers is down to the hirer, we have recommended suppliers, you are free to use them or source your own. This is our basic list of what you need to hire: – Toilets, caterers and entertainment.
Decorations
Your decorations can be whatever you like, from rustic to Disney! We don't mind. We have a few things like bunting, faux flowers and arches etc. These change from year to year and not everything will be available.
Heating
The barn is sheltered and waterproof. The majority of events don't hire heaters, but some people do. This is fine but please let us know what kind you are planning on hiring, as they need to comply with our safety regulations. Gas heaters are recommended, we find Wright Hire in Marple is the best place to go.
All the basic measurements for the barn can be found on the website.
Please read our terms and conditions before getting in touch.